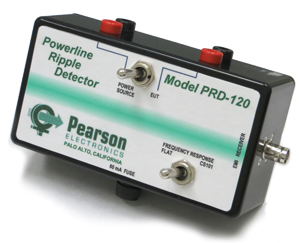 Pearson Electronics Powerline Ripple Detector, model PRD-120 and PRD-240, greatly simplifies the measurement of injected audio-frequency ripple on an ac power bus in EMI tests such as MIL-STD-461G CS101.   

•    Accurate measurements of CS101 over the entire frequency domain
•    Separates the injected ripple from the power waveform.
•    Used with a spectrum analyzer, simplifying the test set up and measurement process.
•    Works on an AC, or DC, power bus.
•    Two models: PRD-120 for 120Vac.  PRD-240 for 240 Vac; 270 Vdc applications.